About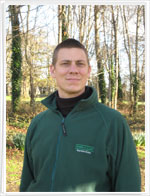 Green & Lush garden care is owned and managed by Kieron Treacy. Kieron has been in the horticultural industry for nearly 20 years. With an interest in nature and landscape design from a young age, Kieron's first taste of professional gardening was when he worked a summer job at the local garden centre. Eager to further his knowledge, he subsequently went on to pursue formal education, attaining a City and Guilds Certificate and later the Diploma in Horticulture from the Botanical Gardens in Glasnevin, Dublin.
After graduation, Kieron sought out a series of jobs in Ireland that gave him a greater and more in depth knowledge of the industry. After some years, he relocated to the UK when he accepted a position to create and maintain the magnificent gardens and estates of the five star 'The Grove' hotel located close to Watford, north of London. As Head Gardener, together with his team of 9 gardeners, Kieron worked the 3 acre formal garden and the 3.5 acre walled garden. This assignment gave him the opportunity to practice some of the finer arts of horticulture to the highest and most professional of standards.
After four years, in 2007 he decided to return with his young family to Ireland, where he founded Green & Lush to bring to the Irish market the high standards gained and honed through his years of education and experience.
A word from Kieron
At Green & Lush we think of ourselves as the 'Gardener's gardener.' Professional gardening services free up your time and allow you to enjoy your outdoor spaces without all the chores.

Green & Lush's maintenance programs are customized to our clients, who select from a menu of services and frequency to meet their goals and budget. Our goal is to increase the quality of our clients' lives by providing peace of mind in the landscape.

When our gardeners come to your residence, you're being served by industry professionals. Each of our maintenance team members is a professional with horticultural qualifications. You'll immediately see the difference that a professionally educated gardener makes in your garden. They really know their plants — their habits and cultural requirements — and use thoughtful pruning methods that respect the natural growth form of plants.

Kieron Treacy - Green and Lush
Contact us today to find out how we can be of service to you.